I've been absent for over a week so here's a quick little post on what I'm lusting after for the month of October.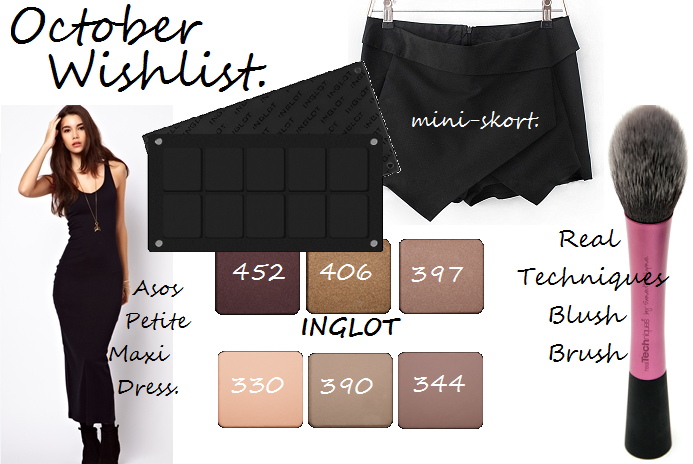 for more details on products,
Asos Petite Maxi Dress - £18.
I've wanted a maxi dress for a while, but now winter is quickly drawing in I find myself craving the cover a maxi dress will bring me. I don't have many items of clothing that go past my knees but I feel like my style is changing and actually want to order some nice looking clothing that will give me the cover and comfort I desire.
I also have the problem of being 5'2 so when I saw this maxi dress, I knew I wanted it. They also have red but I'm a little goth at heart and want the black!
Real Techniques Blush Brush - £9.99.
I've been using a little stippling brush for my blush recently as I have went off the traditional blusher brush so I've been eyeing up this one. I love all the RT's I own and would love to get them all but I'll settle for just one more.
Apparently this brush does all the blending work for you due to the shape and I find myself not using blusher some morning because I don't always have the time to faff about with full face make up, so come to mama.
Asymmetrical 'Skorts' - £3.99 plus £2.99P&P.
I actually seen these on another blog and fell in love. I just think they are so cute and I must own them. I'm loving the layered look.
Pretty sure Zara done a pair recently that have made them quite popular. I've not bought Vogue in a few months so for all I know some designer had them in a A/W show and I've just not seen them, but, wow, I want a pair. I had a pair of 'skousers' when I was younger so it;s a bit of nostalgia too.
Inglot Freedom Shadows - £4.50 each.
I'm loving my Inglot shadows recently as you can see here(first inglot post.) and here(seconf inglot post). I'm just wanting to fill up my palettes a bit for a good range of colours and these have really caught my eye. Most are just some lovely neutral shade I like and I think 342, which is a dark burgundy red will look great with Metallic Pomegranate Color Tattoo which has been a real staple in my make up looks this September.
Inglot Freedom 10 Palette - £10.
I'm running out of spaces in the two palettes I already own so I need another one. Or Two.
I can't see myself buying any Inglot in October because the amount I purchased in September, but a girl can dream.
love from

ZXSquecktrum